2015 NFL Predictions (@MBARNES21)

AFC North:
-Pittsburgh Steelers
-Baltimore Ravens
-Cincinnati Bengals
-Cleveland Browns

​AFC East:
-New England Patriots
-Buffalo Bills
-Miami Dolphins
-New York Jets

​AFC South:
-Indianapolis Colts
-Jacksonville Jaguars
-Houston Texans
-Tennessee Titans

​AFC West:
-Denver Broncos
-San Diego Chargers
-Oakland Raiders
-Kansas City Chiefs

​NFC North:
-Detroit Lions
-Green Bay Packers
-Minnesota Vikings
-Chicago Bears

​NFC East:
-Dallas Cowboys
-New York Giants
-Philadelphia Eagles
-Washington Redskins

​NFC South:
-Atlanta Falcons
-New Orleans Saints
-Carolina Panthers
-Tampa Bay Buccaneers

​NFC West:
-San Francisco 49ers
-Seattle Seahawks
-St.Louis Rams
-Arizona Cardinals

​League Leaders:
Passing: Matt Ryan
Rushing: Adrian Peterson
Receiving:Calvin Johnson
Sacks:Von Miller
Interceptions:Harrison Smith
Best Record: 12-4 Falcons,Lions,Cowboys,Steelers,Colts
Worst Record: 4-12 Redskins,Jets

​League Awards:
MVP: Matt Ryan
OPOY: Calvin Johnson
DPOY:Von Miller
CPOY:Adrian Peterson
OROY:Melvin Gordon
DROY:Vic Beasley

​Super Bowl 50: Steelers VS Cowboys / Colts VS Falcons

​WATCH FOR: St.Louis Rams and Minnesota Vikings are my surprise teams even in playoffs,both teams will have the best defense in NFL.

​BOLD PREDICTIONS:
-Vikings lead league in Interceptions.
-Rams lead league in Sacks
-CJ Spiller and Adrian Peterson has 2,000 plus yards total.
-Calvin Johnson has 3 200 yard games.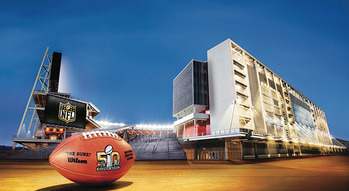 Week 1 Match Ups:

​​Pittsburg Steelers @ New England Patriots
Brady,Brady,Brady, expect a full serving, as the Super Bowl Champions defeat Big Ben and his Steelers.With Le'Veon Bell suspended it only adds to the challenge. Patriots 34, Steelers 30.

Indianapolis Colts @ Buffalo Bills
There is no better QB VS QB talk here, that award goes to Andrew Luck. Luck will have to earn a win at Buffalo against Rex Ryan and his defensive mind, and core young players that are on the rise ,Marcell Darerus,Stephon Gilmore, and of course Mario Williams. Colts 31, Bills 16.

Green Bay Packers @ Chicago Bears
Jay Cutler is on the line of playing his way out of his job.While Aaron Rodgers is making a name for himself league wide.Jordy Nelson will miss the season, Green Bay still boasts Lacy,Robb. Aaron Rodgers and his team are contenders to be playing in Rodgers childhood teams city.Well close to it. Packers 20, Bears 13

Seattle Seahawks @ St.Louis Rams
Rookie of the year hopeful Todd Gurley will be OUT.The Rams are division rivals and it will be a slug fest.Aaron Donald will continue where he left off as All-Pro as a rookie, also at the demanding defensive tackle position.Marshawn Lynch will be contained but the Rams don't have the offensive power needed yet. Seahawks 20, Rams 17.

​C​arolina Panthers @ Jacksonville Jaguars
Cam Newton,Blake Bortles at this point I don't know who I would prefer, not a blast at the 2 young talents. It comes down to the other side, Luke Kuechly is has a tremendous amount of talent,paired up with rookie Shaq Thompson, Thomas Davis,Charles Johnson,Star Lotulelei,Kony Ealy, all have the talent to boast a top tier defense. Panthers 27, Jaguars 17

​Kansas City Chiefs @ Houston Texans
JJ Watt the big name,the defensive player of the year will make the crowd go wild in a team win at home.Kansas City added Maclin, and Jamal Charles is ready for another pro bowl season.Issue is Alex Smith can he lead team to a playoff win with Andy Reid? It starts again Sunday. Chiefs 13, Texans 21

​Cleveland Browns @ New York Jets
I like Cleveland chances with Johnny Manziel, although not expected to start Browns over Jets in this slow down show down. Browns 17, Jets 10

​Miami Dolphins @ Washington Redskins
Ryan Tannehill has another year to grow,this season fans expect playoffs.The team signed Suh to major deal.The Redskins are going to down hill fast.The team might need a full on over haul.Dolphins 27, Redskins 7

​New Orleans Saints @ Arizona Cardinals
Drew Brees team has changed from last year.With Jimmy Graham gone an CJ Spiller arrived, Brees has the fire power to go for ANOTHER 5,000.Arizona has gotten better but not by much. Saints 31, Cardinals 20

​Detroit Lions @ San Diego Chargers
Stafford,Johnson,Tate,Bell,Ebron, this team has talent and must win a playoff game.While San Diego has Melvin Gordon to help spread the offense.Brandon Flowers and Co. have their hands full.San Diego must protect Philip Rivers from Ansah and his company. San Diego wins shoot out in the Finest city in America. Lions 31, Chargers 34

​B​altimore Ravens @ Denver Broncos
The legend, Joe Flacco, okay really Peyton Manning is at it again his skill is not the same but his head and mind game are.While Flacco has proven to be a great leader and quarterback.Von Miller leads the defense which is now his and its also a contract year for the young linebacker.This game wll be another recent classic of Ravens VS Broncos. Ravens 27, Broncos 20

​Cincinnati Bengals @ Oakland Raiders
Amari Cooper may be a what Oakland fans have been missing since missing out on numerous upon numerous draft busts.Cooper may earn a jersey exchange with pro bowl wide receiver AJ Green.Oakland with upset at home. Raiders 20, Bengals 17

​Tennessee Titans @ Tampa Bay Buccaneers
#1 VS #2, the match up will not be over after the game,media personal will gobble this game up.Tampa Bay will have a better Doug Martin and the 2 6'5 WRs will spread field fir Martin and Winston to run the game. Titans 16, Buccaneers 27

​New York Giants @ Dallas Cowboys
Tony Romo and Dez Bryant are looking for a win at home at AT&T Stadium against the rival Giants.Dez Bryant has his due of 100 yards in a win.Eli Manning ONLY throws 2 interceptions. Giants 24, Cowboys 30

​Philadelphia Eagles @ Atlanta Falcons
Tim Teb….oh he was cut,face it he does not have the skill to be in this league.Matt Ryan is my underdog MVP winner and maybe Super Bowl MVP if his cards are dealt right.With Julio paid and ready for the vertical pass more than ever this team is on a quick rise.The Eagles may be doing the exact opposite. Eagles 19, Falcons 31

​Minnesota Vikings @ San Francisco 49ers
Adrian Peterson…that's all to be told. Against a VERY hungry defense who are missing many players from last year.The hungry eats on Monday Night Football. Vikings 28, 49ers 31


​

​​

​​